Saint Louis,
19
September
2018
|
00:00 AM
Europe/Amsterdam
New book walks through Luther's commentaries on the Book of Isaiah
"My conscience is captive to the Word of God." —Martin Luther
New from Concordia Publishing House comes Reading Isaiah With Luther. Walk through Martin Luther's commentaries on the Book of Isaiah with Pastor Brian Kachelmeier, who explains Luther's interpretation of the conscience and applies it to your life today.
The conscience is a gift from God, the faculty of the heart that is to be shaped by what is right or wrong in God's sight. Only through Christ can you receive a clean conscience, life, salvation, and peace.
Reading Isaiah with Luther offers highlights from Luther's commentaries on the Book of Isaiah (where Luther explains the conscience), contemporary applications and explanations, and full-color artwork that helps you pause and reflect on key Luther quotes.
Reading Isaiah with Luther, like Reading Romans with Luther, is Luther for everyday Christians. This book offers a nonintimidating way for Christians to study Scripture and learn from one of the great theologians of the Reformation while being guided by a contemporary pastor who helps bridge the gaps between Scripture and Luther, and Luther and contemporary life.
Praise for Reading Isiah with Luther:
"Reading Isaiah with Luther may appear to be just a journey back in time—not so! Brian Kachelmeier's stellar work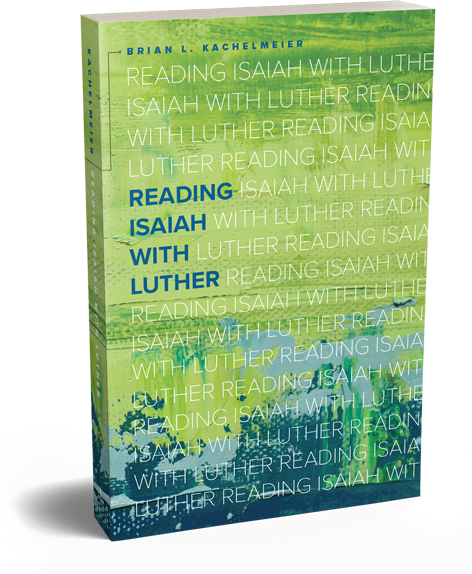 is for the here and now. Wonderfully organized around the theme of conscience, this book exudes with pastoral concern for God's people. The idea of conscience was ubiquitous in Luther's time, but not so much in ours. Kachelmeier helps us recover what we have lost—a robust way of confronting counterfeit catechesis by pointing the baptized to God's gift of a new conscience that is Christ-centered and Gospel-saturated."
—Reed Lessing, Senior Pastor St. Michael Lutheran Church, Fort Wayne, Author, Concordia Commentary: Isaiah
"Martin Luther read Isaiah with the confidence that the Prophet spoke of Christ, particularly his proper work of consoling terrified consciences with the evangelical and liberating word of forgiveness. Brian Kachelmeier has provided a guide into Luther's lectures on Isaiah that is not only accessible but rich with pastoral insights. Pastors will gain substantial insights for preaching and the care of souls while laity will be enriched in their understanding of Christian doctrine and life."
—John T. Pless, M.Div., D.Litt., Assistant Professor of Pastoral Ministry and Missions/Director of Field Education, Concordia Theological Seminary
"With the book of Isaiah in one hand and Martin Luther in the other, Pastor Kachelmeier goes to work like a true doctor of souls. He unfolds the preaching and teaching of Isaiah and Luther for us, bringing fresh understanding, new insight, and the true comfort of the Gospel. Pastor Kachelmeier, like Pastor Luther, and Pastor Isaiah all focus on the conscience and the cleanness and comfort that Jesus wants to bring to the Christian's conscience. For anyone looking for a better understanding of the Scriptures and Luther's teaching, this is your book."
—Pastor Bryan Wolfmueller, Author, Has American Christianity Failed?
"How misunderstood the role of conscience is in our culture today! How underappreciated also in the Church! Here is a book that provides a powerful remedy. With Isaiah as the terrain and Luther's commentary in hand as a trusty map, Pastor Kachelmeier leads us on an adventure into the realm of conscience, its malformation by the pressures of society and Satan and its reformation by the grace of the Holy Spirit operative in the Word of God. It's a much-needed trip that we need to take from fear and uncertainty to faith's joyful conviction. I know that the readers of this work will join me in acknowledging the debt of gratitude to Pastor Kachelmeier for inviting us to travel along the contours of Isaiah with him!"
—William Weedon, Chaplain, LCMS Director of Worship, Author, Thank, Praise, Serve, and Obey, andCelebrating the SaintsFor more information on Reading Isaiah with Luther or to order the book, please visit cph.org/readingisaiah or contact Lindsey Martie, Public Relations, by phone at 314-268-1303 or by email at Lindsey.Martie@cph.org.
About Brian Kachelmeier
Rev. Brian L. Kachelmeier is pastor at Redeemer Evangelical Lutheran Church in Los Alamos, New Mexico. He is a graduate student in the Doctor of Ministry program at Concordia Theological Seminary in Fort Wayne, Indiana. Kachelmeier has a BA in Religious Studies from the University of New Mexico in Albuquerque, New Mexico, and an MDiv from Concordia Theological Seminary in Fort Wayne, Indiana.
About Concordia Publishing House
Concordia Publishing House (CPH) is the publishing arm of The Lutheran Church—Missouri Synod. For 150 years, CPH has been providing individuals, churches, and schools with products that are faithful to the Scriptures and the Lutheran Confessions. From books and Bibles to church supplies, curriculum, and software, CPH offers more than 10,000 products to support the proclamation of the Gospel worldwide. Visit CPH online at cph.org.